America Martinez was born in Madrid in 1922. When she was 8 years old, she and her sister España began their guitar studies teached by their mother. At the next course they became Daniel Fortea's pupils. "Dona" América learns guitar and Spanish mandolin. Soon she was his guitar assistant in "Ateneo" and "Circulo de Bellas Artes" in Madrid, from 1934 until 1936.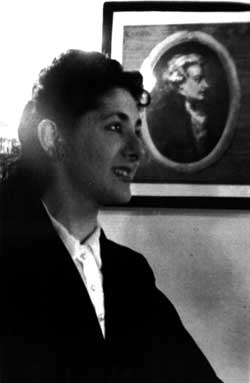 In 1932, when she was 10 years old, América offers guitar concerts beside her sister Espana. They gave two guitars concerts and guitar and Spanish mandolin concerts at the "Circulo de Bellas Artes", "Ateneo", "Teatro María Guerrero", "Coliseum Espana", "Teatro de La Zarzuela" and at some radio stations in Madrid. Later on, they played in the principal concert halls of Spain.
America Martinez was for 43 years a guitar's teacher at the Seville's Conservatory. After her retirement, she continues being devoted in body and soul to guitar. She is a member of the panel in important competitions, teaches master classes, gives lectures, etc. Among his more distingued disciples there are Maria Esther Guzmán, Jose Mª Gallardo and Juan Carlos Rivera.
1987 was the year of America Martinez's retirement. At this year "Dona" América organized a very important Guitar Festival: "Homenaje a 130 Años de Guitarra Clásica Espanola" (Homage to 130 Years of Classical Spanish Guitar). At this event taught the most important "maestros" (Narciso Yepes, Alirio Diaz, Alberto Ponce, Ruggero Chiesa, Betho Davezac), an international competition and many concerts took place and outstanding composers wrote guitar pieces to "Dona" America. These compositions came to augment a list with names like Joaquin Rodrigo, Manuel Castillo, Stephen Dodgson, Reginald Smith Brindle, Antonio Ruiz Pipo, Abel Carlevaro, Jean Maurice Mourat, Stanley Weiner, Edith Lejet, Marc Franceries, etc.
In 1997, the "America Martinez" Guitar Association has been established in Seville by a group of "Dona" America's old disciples.